CARNATIC MUSIC
Carnatic music originated in the fertile plains of the Cauvery delta and flourished through the ages. Vaggeyakaras are the persons who composed many songs which are rendered in its original form to date. Carnatic music is considered one of the oldest systems of music in the world. Carnatic music is a very complex system of music that requires much thought, both artistically and technically. The basis of Carnatic music is the system of ragas (melodic scales) and talas (rhythmic cycles). There are seven rhythmic cycles and 72 fundamental ragas. All other ragas are considered to have originated from these. An elaborate pattern exists for identifying these scales, known as the 72 Melakarta Raagas.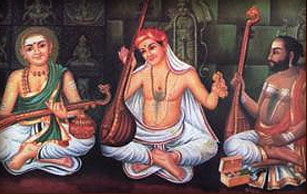 The Trinities of Carnatic Music, Thyagaraja, Muthuswamy Dikshithar and Syama Shastri, the three saint composers of the 19th Century were all born in Thiruvarur near Thanjavur and have composed thousands of krithis that remain fresh among musicians and rasikas. The songs composed by them have explored & exhibited the depth and the rich feeling in this form. The other notable composers are Patnam Subramaniya Iyer, Papanasam Sivan, Raja Swathi Thirunal, Annamacharyar, Purandaradasar.
The most important specialty of Carnatic music is its highly devotional element. The subject matter of the songs mainly dealt with the various Gods and Goddesses, extolling their lives, their virtues, reflecting the varied moods of humans like happiness, gratitude, fear and sorrow. Though Composers have also dealt with subjects like patriotism, nature's bounty etc., their soul and heart were to a very great extent limited to the deities they considered prime. Music was also looked upon as a means of attaining Moksha (Salvation).
The notes of Carnatic music is "sa-ri-gaa-ma-pa-da-ni". These are abbreviations of the real names of swaras which are Shadjam, Rishabham, Gandharam, Madhyamam, Panchamam, Dhaivatam and Nishaadam.
The growth and development of Carnatic music through the centuries is a testimony to the greatness of the Indian mind. It needs to be taken to the international arena parallel to any other classical art form. Carnatic music, the representation of a rich cultural heritage of south India, the essence of spirituality evolved out of the heart and brain of the pious ones and the gurus of the past. Thus Carnatic music of South India is the synonym to salvation and eternity.