Dr. Balamurali Krishna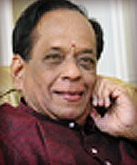 Dr. Balamurali Krishna has immensely contributed to the world of Carnatic music. He was not content with the fame and recognition that he gained by performing in concerts. So he composed a detailed work known as Raganga Ravali on 72 Melakarta (basic scales of Carnatic music). All this at the mere age of 14! Balamurali Krishna also has over 400 compositions in different music scales that are widely accepted by music lovers and critics alike. He has also created many new ragas Like Mahati, Sumukham, Trisakthi, Sarvashri, Omkari, Janasamodini, Manorama, Rohini, Vallabhi, Lavangi, Pratimadhyamavathi, Sushama, etc.
Dr. Balamurali Krishna has contributed a lot in the world of music. He established the "Academy of Performing Arts and Research" in Switzerland. He is also working on music therapy. For extensive research in the field of music therapy, he also established the MBK Trust to develop art and culture and spread the knowledge. "Vipanchee", a dance and music school is a part of this trust and is managed by his trustee Kalaimamani Saraswati.
Mrs. E.K. Lakshmi Bai M.A. B.T.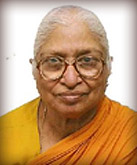 Prof. and head of the Dept of music, Queen Mary 's College, Chennai for a period of 22 years, head of Dept of music in Lady Willingdon College for eight years.She has been chairman and chief examiner for various universities in South India. She is currently a member of the panel for the examination advisory board for classical South Indian Music.
Hariharan Subramaniam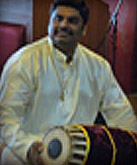 As the founder and President of Sangeetha Swara Laya with 12 branches in Malaysia, his mission is to establish One Music Graduate In Every Indian Family. Dr. Hariharan studied Classical Indian Music from the tender age of 7 that culminated in his Arangetram in Mirthangam and was later conferred the title " Mirdhanga Illavarasa" by Dato Seri Dr.Samy Vellu. This motivated him to learn and master other musical instruments such as Veena, Tabla, Ghadam, Ganjira and Mohersing. With the affiliation of Sangeetha Swara Laya with APAA and Alagappa University his mission now is to spread the value of Indian Classical music on a global basis.