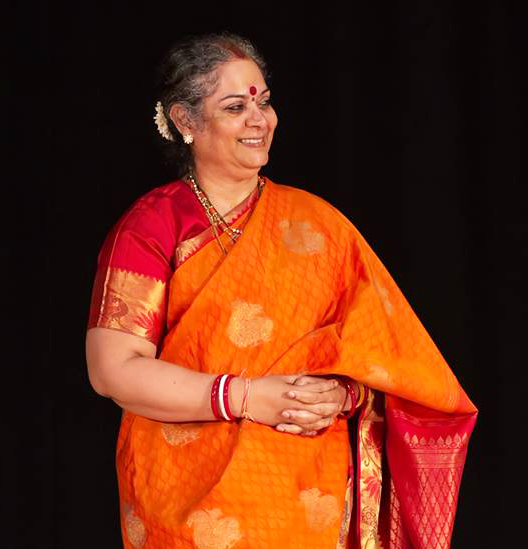 The institute's aim is to propagate the enriched art form of Bharatanatyam in New York and New Jersey.
As indicated in the Natya Veda, Bharatanatyam is a highly structured and scientific form of dance which involves the physical aspect and the theoretical aspect, which helps to understand minute concepts of the art. The institute provides a medium for such detailed elements of the art to be taught, in order to convey the innate beauty of Bharatanatyam.
Shiva Jyoti Dance Academy is also an Alagappa Performing Arts Academy center. The Institute also provides opportunity for learning traditional folk forms as Indian Traditional Folk dances are part and parcel of rich cultural heritage.
Smt. Thejaswini Raj
About the Artistic Director
Smt. Thejaswini Raj is an accomplished professional dance teacher with 30 years of teaching experience. She is well known for her excellent choreographic skills be it an intricate Nritta pattern or an indepth detailed abhinaya piece. She follows the Kaattu Mannar Koyil Muthukumaran Pillai's (one of the founding teachers of Kalakshetra) styleof Bharatanatyam under the guidance of her father, the late Guru Shri S.V. Srinivasan, who is the direct disciple of Kaattu Mannar Koyil. Smt. Thejeswini continued her training under the tutelage of other renowned gurus of South India in the Pandanallur style. She established Shiva Jyoti Dance Academy in Mumbai in 1980 and since then has trained numerous students in the art; many have been awarded the National Scholarship and have won various dance competitions. Her students have performed at many venues in India, Europe and America.
Since 1991, Smt. Thejaswini has been the Guru to the famous dancer and actress, Meenakshi Shesadri. She has performed all over India and America with Meenakshi during this period. Smt. Thejeswini has also choreographed for established artists such as Sunanda Nair, Anandi Ramachandran and Rajeshwari Sachdev. Her work has received accolades from notable dance critics all over India including Subbudu, Sunil Kothari, Leela Venkataraman and Prakruthi Kashyap. She has conducted performances all over India and abroad including the festivals of dance at Swami Haridas Sammelan, Brindavan, the Madras Music Academy, Narada Gana Shabha, Madras, Kuchipudi Mahahotsav, Mumbai, Ganesh Utasav, Pune, Elephanta Festival, Maharashtra, Chidambaram Natyanjali Festival and all the prestigious banners in Delhi, Calcutta, Chennai, Mumbai, Hyderabad, Bangalore and Bhopal. Her Students in Newyork has performed at venues like the Lincoln center, NY, World